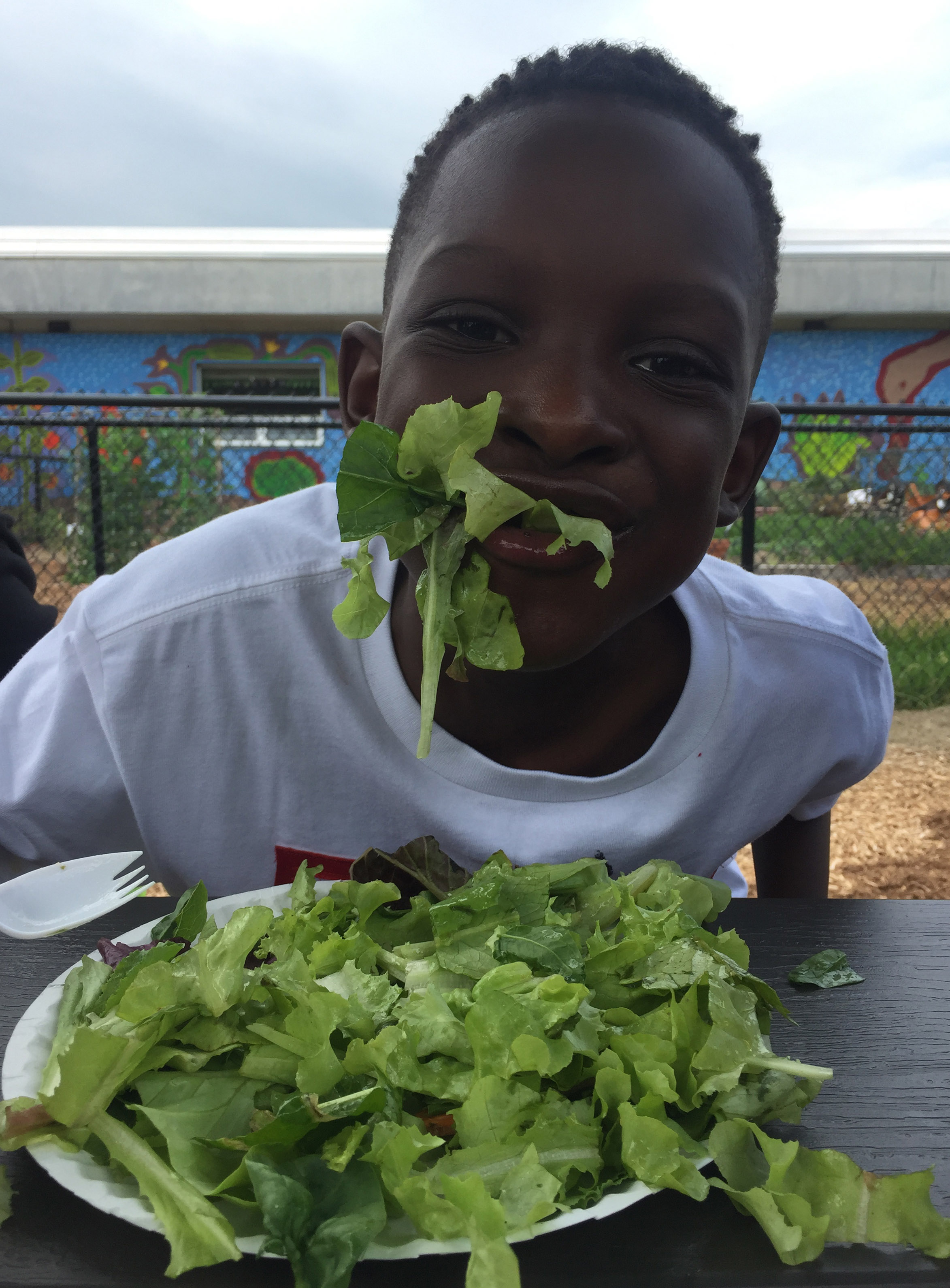 This student at Temple Hill Academy in Newburgh gleefully ate up all the salad leftovers - He just couldn't get enough of the great greens!
To celebrate the bounty of school gardens, every Hudson Valley Seed class ends the school year with a Salad Party. This celebration features a salad harvested by students and made exclusively with fresh ingredients grown in the school garden. At first, kids are skeptical and ask, "Who ever heard of a salad party?!" or, "Why can't we have a party with cupcakes like we usually do?". To get the kids to consider what a unique and exciting experience this really is, I ask them, "Who has ever eaten a meal made of ingredients you planted and grew and picked yourself?". The answer is - almost nobody.
We head to the school garden to harvest, with each student getting a chance to pick an ingredient (lettuce, kale, swiss chard, radish, turnips, scallions). Once our salad is made and we sit down to eat together, we take a moment to reflect on all of the hard work it took to get the food on our plates and thank everyone who had a hand in growing this meal. And despite their earlier skepticism, every student excitedly takes a bite of their school garden salad. I overheard one student say, "I never liked salad before, but this one is different, it's better!"
The foundation of the salad party's success is that the students have grown and tasted each component vegetable throughout the school year, including the featured veggies of the month: string beans, corn, bok choi, broccoli, cucumber, peas, radish, lettuce, and scallions. An average of 79% of our students liked the vegetables in the monthly taste-tests in their classrooms. Lettuce was the most popular, with peas as a close second. Radishes were the least popular, but more than half of the students still liked them! As a HVS student shared, "I liked trying different foods because I actually liked most of them!"